Back here on Planet Earth after Sputnik's failure to launch, we have the CBO projecting a $1.5 trillion dollar budget deficit.
We estimate that, if current laws remain unchanged, the budget deficit this year will be close to $1.5 trillion, or 9.8 percent of GDP. That would follow deficits of 10.0 percent of GDP last year and 8.9 percent in the previous year, the three largest deficits since 1945. As a result, debt held by the public will probably jump from 40 percent of GDP at the end of fiscal year 2008 to nearly 70 percent at the end of fiscal year 2011.
This is the 2011 fiscal projection from the Budget and Economic Outlook: Fiscal Years 2011 Through 2021 report.
While the deficit gets better after 2011, the public debt becomes 76.7% of GDP by 2021.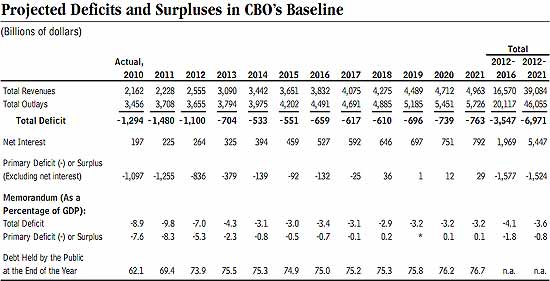 If current laws remain unchanged, as we assume for CBO's baseline projections, budget deficits would drop markedly over the next few years as a share of output. Deficits would average 3.6 percent of GDP from 2012 through 2021, totaling nearly $7 trillion over that decade. As a result, the debt held by the public would keep rising, reaching 77 percent of GDP in 2021.
The CBO director lists some of the critical assumptions in his blog overview and this minor factoid is brought to light:
Payroll employment, which declined by 7.3 million during the recent recession, rose by only 70,000 jobs, on net, between June 2009 and December 2010.
You cannot reduce the deficit without increasing revenues and you cannot collect taxes on people who earn no money.
They have a whole list of assumptions, most are current law, with a moderate GDP growth of 3% for 2011/2012.
Even worse, if those temporary tax cuts are made permanent, we get this:
All of those policies have recently been extended for one or two years. If they were extended permanently, deficits from 2012 through 2021 would average about 6 percent of GDP, rather than 3.6 percent, and cumulative deficits over the decade would be nearly $12 trillion. Debt held by the public in 2021 would rise to almost 100 percent of GDP, the highest level since 1946.
The CBO site also has interactive graphing tools for deficit projections if current laws are changed or made permanent.
Let's end with the CBO director's opening paragraph:
The United States faces daunting economic and budgetary challenges. The economy has struggled to recover from the recent recession: The pace of growth in output has been anemic compared with that during most other recoveries and the unemployment rate has remained quite high. Federal budget deficits and debt have surged in the past two years, owing to a combination of the severe drop in economic activity, the costs of policies implemented in response to the financial and economic problems, and an imbalance between revenues and spending that predated the recession. Unfortunately, it is likely that a return to normal economic conditions will take years, and even after the economy has fully recovered, a return to sustainable budget conditions will require significant changes in tax and spending policies.
It reads like he could be a blogger on this site. Again, check out the CBO's website for interactive tools. There you can see what tax cuts for the rich just gave us....