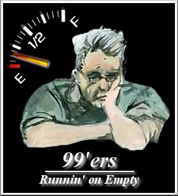 Remember the 99ers in this 60 Minutes report? People with PhDs, Masters degrees, hard working, highly trained and educated, years of quality work experience.....who cannot find a job?
While those people are out of luck, unless Congress passes what's called tier 5, extending the benefit time period, we now have even more people about to be denied unemployment benefits on top of things. That's 2 million people about to have zero money to try to survive.
Unemployment insurance normally extends 27 weeks. Congress extended unemployment to 99 weeks in the Stimulus package. Filing for that extension expires in the week of November 20th, 2010. Below is a graph of those on EUC and EB from the Atlanta Federal Reserve, from September 2010.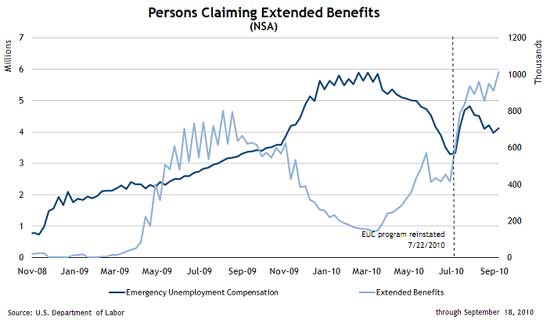 About 2 million long-term jobless workers could lose eligibility for unemployment-insurance payments by the end of the year due to the expiration of federal funding.

A special extended-benefits program that relies on federal funds will start shutting down later this month. There's little time to work on legislation to extend the program during the lame-duck session in Congress, and passage of additional benefits would likely be even tougher once Republicans assume majority status in the House of Representatives starting in January.
EPI tells us at the current rate of job growth, U.S. full employment is 20 years away.
According to the latest weekly initial claims report, there were 3,978,374 people claiming emergency unemployment compensation and 1,034,703 claiming extended benefits. That's over 5 million people.
According to the Department of Labor, 1,981,000 people will be fall off the rolls by January if Congress doesn't act. Below is a graph of people who will lose benefits as reported by the Department of Labor.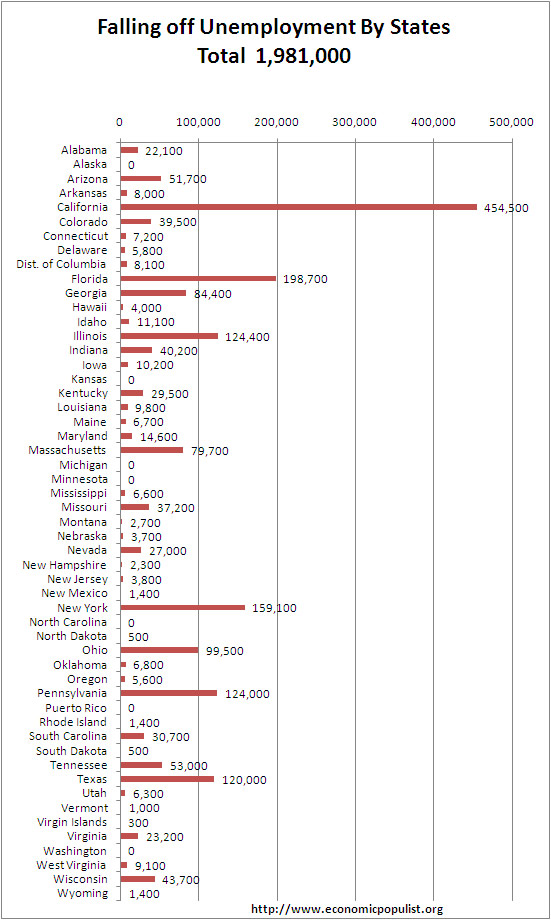 That....is a national emergency. Now we are seeing the consequences of job loss and high unemployment and it will only get worse. When you've got 16% of your population earning $5000 dollars or less and this many people unable to land a job....expect to see 3rd world poverty right here in America on a massive scale. That's no shelter, no clothing, no food and assuredly no medical care for a huge percentage of Americans, especially those without small children, since they are denied a roof over their heads by welfare reform.
Here are some damning facts for you. The broader unemployment rate, or those unemployed and underemployed is 26.6 million people. There are 4.6 available workers per job opening. This recession lost 7.5 million jobs. Due to population growth, we need 11 million jobs to get back to 2007 unemployment rates of around 5%.
How does the BLS count the unemployed anyway? Well, it's a tricky wicket. From their methods handbook, first there are two surveys, the establishment survey, which is 140,000 businesses and the Current Population Survey, which is a sampling of 60,000 households, with a probability/statistical extrapolation to the entire nation from that sample. Yes, strange but true, the BLS is not simply collecting raw data, yet you can bet Visa, Facebook, MasterCard and Google are.
People first go to the EUC and then to EB before being dumped off in the damned land. Remember, for those self-employed, there was never any assistance. There are only food stamps. Only about 48% of working America counts to qualify for unemployment benefits in the first place. EPI is estimating extending EUC and EB unemployment benefits will cost $65 billion dollars. They have a host of other claims, which are based on CBO economic stimulus multipliers.