Ah, those green shooters lying in the brown weeds and crying. The ADP employment report is out and no magic V implied. We have more job loss, not growth, of 23,000.
Nonfarm private employment decreased 23,000 from February to March on a seasonally adjusted basis, according to the ADP National Employment Report®. The estimated change of employment from January 2010 to February 2010 was revised down slightly, from a decline of 20,000 to a decline of 24,000.

The March employment decline was the smallest since employment began falling in February of 2008. Yet, the lack of improvement in employment from February to March is consistent with the pause in the decline of initial unemployment claims that occurred during the winter.
Note, the ADP report is private sector, so a Census hiring temporary bubble is not in the above report. Either are adjustments for weather.
Manufacturing and our dead slab sector construction, dropping 43,000 jobs alone, were again hammered.
March's ADP Report estimates nonfarm private employment in the service-providing sector increased by 28,000, the second consecutive monthly increase. However, this employment growth was not enough to offset job losses in both the manufacturing and construction sector.

Employment in the goods-producing sector declined 51,000, with employment in the manufacturing sector declining by 9,000.
As noted last Monday there are a whole bunch of people out there, who for some reason believe March is the month we see some damn jobs. The BLS employment report is out tomorrow.
To get a feel for how much the ADP deviates from the BLS, below are two graphs: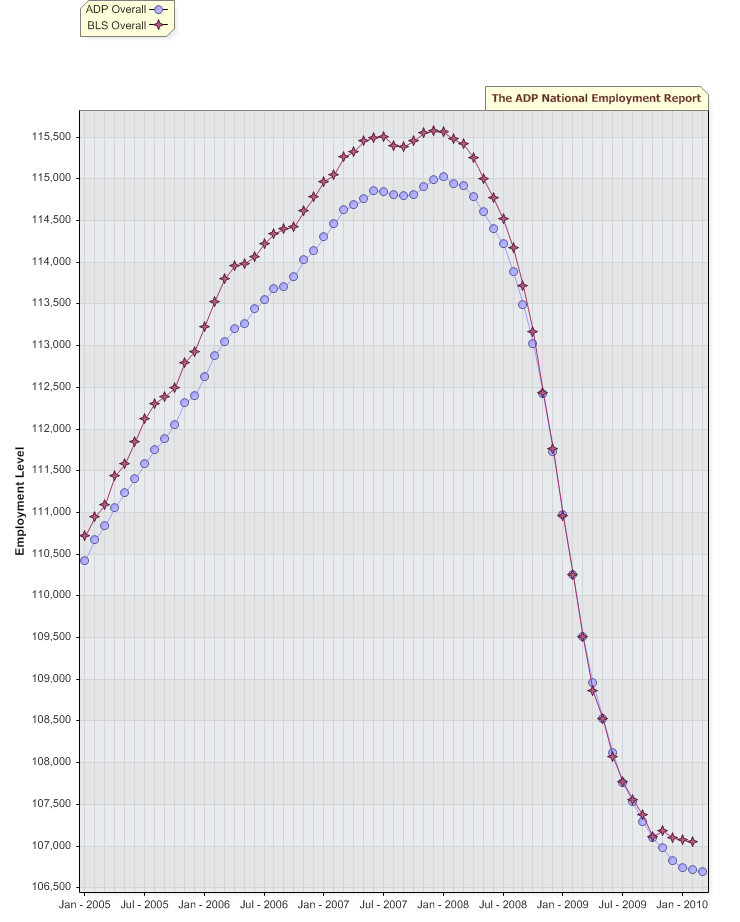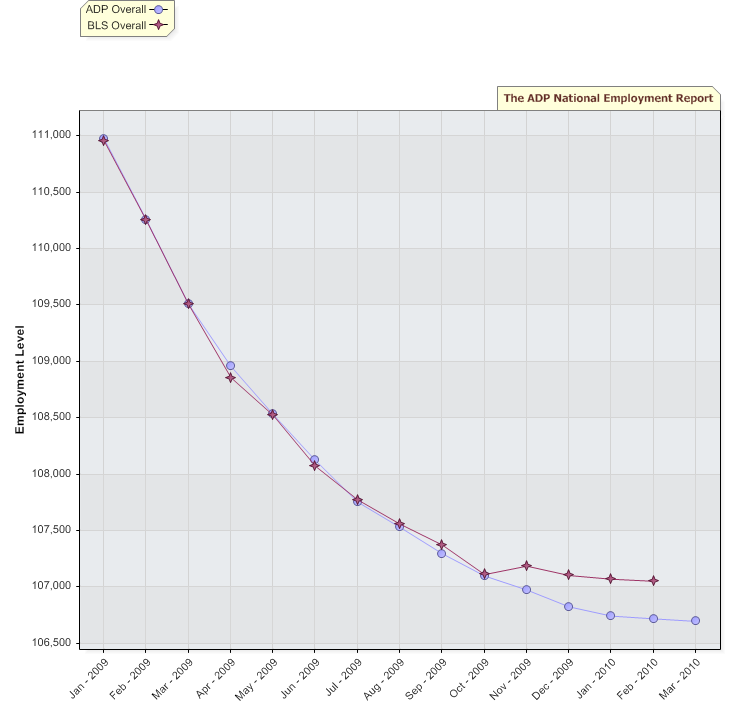 One can see some divergence of up to ~50,000 jobs and recall the ADP is private payrolls, not government. The Census is expected to add over 100,000 jobs in March.
So, unless you see a blow out tomorrow, of say 175,000 or so, well, it ain't so great. We cannot all be Census workers.