The latest budget deal does not extend unemployment benefits for some of the long term unemployed. This means without some Congressional action, unemployment benefits will only be available for 26 weeks in 2014. The current average time to be officially unemployed is 37.2 weeks, far exceeding the time one can receive regular unemployment insurance benefits in most states. Congress of course is off to enjoy their Christmas while 1.3 million people are kicked off the unemployment benefit rolls on December 28th. The 113th Congressional session is scheduled to end December 20th, so off they go to their million dollar homes and warm yuletide fires while 1.3 million more people are kicked to the curb. There are over four million official unemployed who have been so over 27 weeks.
President Obama has given any possible extension the kiss of death by making a speech about it as we know Congress loves to ignore what the President wants. This time Obama is right, this is a terrible holiday message. Ho, ho, ho, out into the street you go! The Congressional Christmas gift is to deny unemployment benefits to approximately 1.3 million recipients immediately and cut off another 3.6 million recipients by the end of 2014, America gets an additional lump of coal as refusal to extend benefits will have a negative economic impact on the overall economy as well. The White House at least is strong on making their case, they released a white paper full of facts and figures to prove helping the long-term unemployed is good for America.
The emergency unemployment compensation program was enacted in 2008 and extended unemployment up to 73 weeks. Below is a map of current total unemployment benefit weeks and all of this is about to disappear for 2014. Think about that fact while contemplating the official unemployed has remained at amazingly high levels. There are about 11 million official unemployed and this figure has remained static for some time. Beyond the official tally, there are millions more potential American workers who have dropped out of the count and not even considered in the official unemployment statistics. Hiring in America has only increased 24% since the height of the Great Recession, now over four years ago.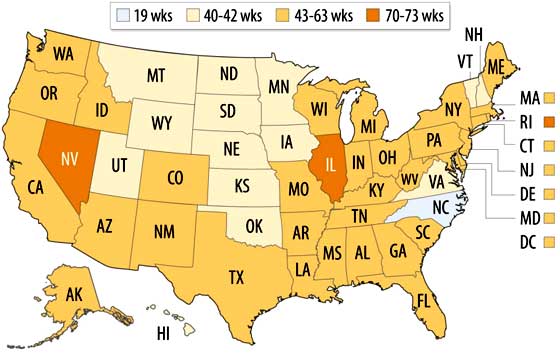 Unemployment benefits are a stimulus and the DOL estimates if benefits are not extended it will cost the United States an additional 240,000 jobs by the end of 2014. The CBO estimates extending EUC through 2014 would cost $26 billion,yet raise 2014 real GDP by 0.2 percentage points. In other words, beyond helping millions of long term unemployed, the money spent is stimulative, meaning we get some of this money back in increased economic growth.
While the outrage over Congress' lack of action to help the long term unemployed roils and boils, the reality is 49.7% of those who have lost their jobs and even apply for UI get unemployment benefits in the first place. The average benefit is just $300 a week, hardly enough to make a mortgage payment with. Among the official unemployed there are over four million who have been so 27 weeks or longer. If one counts the disenfranchised, the estimate is much higher. Worse than that, due to employer discrimination, only about 10% of the official long-term uenemployed find a job per month. It is still a terrible job market, yet for the long-term unemployed they face discrimination and rejection at every turn from U.S. employers.
While the focus has always been on funding unemployment insurance, no attention has been given to those who are not able to get benefits, even though, obviously they should. Many states have a minimum number of hours required to work and these days of willy-nilly firings, part-time jobs and temporary positions means many cannot qualify for benefits. If one is an adult, this means the only benefit left is food stamps. There is no help with shelter. You're out in the street if one is not lucky enough to have friends or family to provide a couch. Another new holiday season tradition from employers is not the year end bonus, but a pink slip. The holiday season often brings doom and gloom to workers as 31% of layoffs occur in Q4. In other words, the past holiday bonus and thanks for being our loyal employee has been replaced with a you're fired pink slip in the company Christmas stocking.
Worse, immigration influxes do effect labor markets, it is a simple law of supply and demand. Very obviously the demand for U.S. workers is still piss-poor and the U.S. labor market cannot absorb a massive wave of increased worker supply. Obama has been hell bent on flooding the U.S. labor market with even more workers while millions of Americans cannot find a job, and this figure includes millions with advanced degrees and technical skills. While the fight for unemployment benefits continues, instead of offering businesses tax incentives to hire, train and retain U.S. workers, we get another bad trade deal. Instead of rebuilding U.S. infrastructure with American workers and American goods, we get the Department of Defense budget funded to the tune of $632.8 billion. This is over half of the total $1.012 trillion budget for fiscal year 2014.
One would expect the ghost of Christmas past to visit Congress and wake them up. Yet with lobbyists and gerrymandered districts, they seem to be impervious to everything, especially empathy for the U.S. worker. While Congress enjoys their yule tide log, the poor American worker match girl is once again left out in the cold. Merry Christmas America! Remember to go shop and ignore the estimated 2.5 million homeless huddled on the street corner.