NAR reported their February 2013 Existing Home Sales. Existing home sales increased 0.8% from last month and inventories increased to a still very tight 4.7 months of supply. Existing homes sales have increased 10.2% from a year ago. Volume was 4.98 million against January's 4.94 million, annualized existing home sales. This is the highest level since November 2009, when the first time home buyer tax credit was in full swing.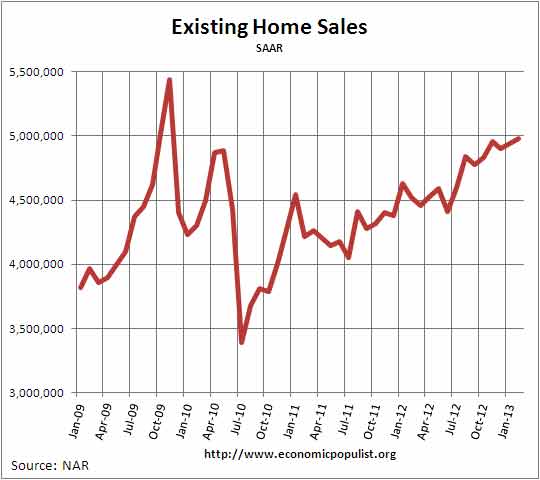 Inventory of existing homes increased 9.6% for the month or 1.94 million existing homes for sale, a 4.7 months supply and inventory is down 19.2% from a year ago. Inventories by months to sell at current sales volume is now at 2005 levels. Short supply also partially explains the increasing prices.
The national median existing home sales price, all types, is up, now at $173,600, a 11.6% increase from a year ago. The average home price for February was $221,700, a 10.0% annual increase and up 1.5% from November. According to NAR, we have bubble like price increases and may very well have much to do with the Federal Reserve mortgage backed securities purchases, known as quantitative easing. The Fed's move is keeping mortgage interest rates at record lows.
The last time there were 12 consecutive months of year-over-year price increases was from June 2005 to May 2006. The February gain is the strongest since November 2005 when it was 12.9 percent above a year earlier.
According to RealtyTrac, foreclosure filings are down bank repossessions are at a 65 month low, but foreclosure starts increased 10% for the month.
Foreclosure filings — default notices, scheduled auctions and bank repossessions — were reported on 154,281 U.S. properties in February, an increase of 2 percent from the previous month but still down 25 percent from February 2012. The report also shows one in every 849 U.S. housing units with a foreclosure filing during the month..
Below is the breakdown by types of existing home sales by time and a quarter of February sales are distressed properties.
Distressed homes - foreclosures and short sales - accounted for 25 percent of February sales, up from 23 percent in January but down from 34 percent in February 2012. Fifteen percent of February sales were foreclosures, and 10 percent were short sales. Foreclosures sold for an average discount of 18 percent below market value in February, while short sales were discounted 15 percent.
NAR claims the increase in all cash buyers is seasonal.
First-time buyers accounted for 30 percent of purchases in February, unchanged from January; they were 32 percent in February 2012.

All-cash sales were at 32 percent of transactions in February, up from 28 percent in January; they were 33 percent in February 2012. Investors, who account for most cash sales, purchased 22 percent of homes in February, up from 19 percent in January; they were 23 percent in February 2012.
According to NAR a third of existing homes were on the market less than a month.
The median time on market for all homes was 74 days in February, which is 24 percent below 97 days in February 2012. Short sales were on the market for a median of 101 days, while foreclosures typically sold in 52 days and non-distressed homes took 77 days. One out of three homes sold in February was on the market for less than a month.
What is quite frighting is this paragraph from NAR. It is like they wish to return to the housing bubble again when the reality is wages cannot afford these home prices and using home equity to spend is really not a good idea. Recreating a bubble is not the way to sustained economic growth and NAR discounts the massive loss in wealth and wages from the recession.
A strong rise in home values is contributing to housing wealth recovery, which has risen by $1.4 trillion in the past year and looks to top that increase this year, The extra consumer spending arising from growth in housing wealth is expected to be $70 billion to $110 billion this year.
Pushing up home prices through artificial Fed actions is also frightening. Sure millions of homeowners are still underwater in their mortgages, but the reality is homes are simply becoming unaffordable again. This is already true in Maryland.
Contingent short sales are not part of existing home sales active listings and RealtyTrac predicts they will rise in 2013.