In November, the United States trade deficit was $38.3 billion and only shrunk during the global recession, where all trade slowed. Now Joseph E. Gagnon has new research, showing the trade deficit will come roaring back, wrecking havoc once again on the U.S. economy. Why? Currency manipulation in a nutshell.
From the paper Current Account Imbalances are Coming Back:
Based on these statistical results and on policy plans that have been announced to date, current account imbalances are likely to return to record levels over the next five years. This conclusion supports the view that the recent narrowing of imbalances was almost entirely a result of the global recession and that global recovery will unwind this effect. Indeed, recent data suggest that IMF projections for current accounts in 2010 understate the likely imbalances last year in some of the largest G-20 economies.
As it is, the trade deficit literally wipes out GDP growth. In the Q3 2010 report, imports, which subtract from gross domestic product, reduced the final GDP growth by half.
Gagnon's research finds fiscal deficits, yes that deficit, increases global imbalances by 20-30%, while currency manipulation, causes a 40-50% increase in current account balances for emerging economies. Fiscal deficits previously were thought to affect economic growth by 10-20%. So, that's developing, or emerging economies increasing their current accounts by up to half through the purchase of foreign assets.
In his paper Garnon refers to current accounts. That's just the amount of goods, services, income and transfers into the U.S. and out. It's like the U.S. has a gigantic bookkeeper, the BEA, and there are three different categories on their master spreadsheet, current accounts, capital accounts & financial accounts. All of this is done under BOP, or balance of payments or international transactions.
The current account tends to increase by 40 to 50 percent of any increase in net official financial outflows (including reserve accumulation), and the effect may be even larger in some developing economies.
Translation & Interpretation: China's currency manipulation is hurting the U.S. economy more than the budget deficit for China is 72.4% of the non-oil goods trade deficit.
Other factors which effect current account balances are commodities, such as oil, and production. A current account balance is a major measure of trade, which in turn affects domestic economic growth.
External financial policies are the most important drivers of current account imbalances in developing economies, but they are not significant drivers in advanced economies. These policies include, for example, preventing exchange rate appreciation after positive shocks to net exports by sterilized intervention in foreign exchange markets. Such policies enable current accounts to remain positive indefinitely because they shut off the normal adjustment channel of real exchange rate appreciation. These policies are more common in developing economies than in advanced economies, in part because greater capital mobility in advanced economies makes sterilized intervention less effective.
All of this is based on a statistical model to account for currency exchange rates and net financial flows or where money and financial assets are flying around the globe.
What he is talking about is when China buys up U.S. Treasuries to avoid having excess U.S. dollars, which they got from selling their exports in the United States. Normally, when receiving U.S. dollars and needing to exchange them for the home country, or domestic currency, those dollars go out into the open foreign exchange market. China must "exchange" those U.S. dollars back into Yuan. Aha! Instead of exchanging them completely, in an international foreign exchange system, floating, China only exchanges a partial amount. This is done by pegging the Yuan or fixing it to an artificially predetermined ratio to the U.S. dollar. This is called a fixed, or pegged currency exchange rate. Now, China goes out and buys up a bunch of U.S. Treasuries and other foreign assets, reserves, to make up the difference between what they exchanged of Dollars to Renminbi, with what is left over, or excess dollars they couldn't exchange for their currency without raising the U.S. dollars to Yuan ratio. This is what China does with the rest of the loot to make up the difference, buy up foreign assets and cash separately.
It isn't just China playing this currency peg game, a host of other developing nations are doing the same thing. By refusing to float the Yuan, aka Renminbi, aka CNY, China now has a record $2.85 trillion in foreign currency reserves, that's cash and things like U.S. Treasuries as well as the world's largest money supply at the highest M2 growth rate. From last October, China's U.S. Treasury holdings were $906.3 billion dollars. Remember Treasuries means buying U.S. debt.
The simple statistical model of this paper explains about two-thirds of the current account imbalances of developing economies, a large improvement over previous studies. The model explains only about half of the current account imbalances of industrial economies, which is comparable to previous studies. Whereas previous studies found the United States to be a puzzling outlier, this paper finds Germany and Japan to be the most prominent outliers. Clearly, more work is needed to understand current account imbalances in the industrial economies.
Cutting to the chase of Gagnon's research is the below table, which is the projected changes to each nation's current accounts given the same scenarios (nothing much changes) from before the financial crisis and recession. The first column is the current account balances to GDP ratios that was run during 2004-2008. Column 2 is the IMF projections for an increase or decrease for that ratio in 2011-2015 for each country. Column 3 shows the results from Gagnon's model in contrast to column 2, the IMF's projected change. In other words, the United States trade deficit and thus reduced GDP is going to get worse not better for 2011-2015 in comparison to 2004-2008. See that difference between the IMF forecasts and his model? That means for the United States the trade deficit, and odds on economic growth is going to be much worse than pre-recession levels. The other two columns are a couple of different economic models that don't take into account external financial policies (such as buying a bunch of Treasuries to manipulate one's currency).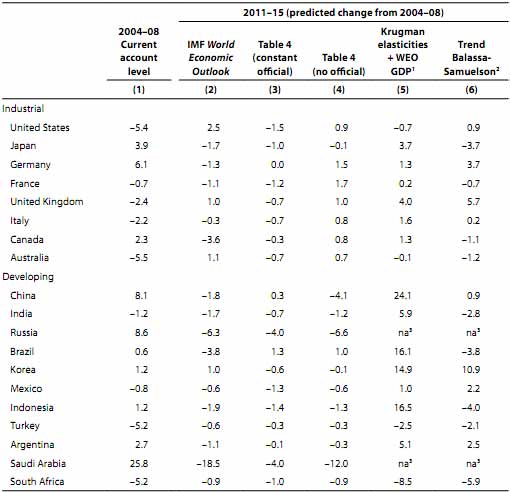 Below are some of the paper's recommendations we've seen over and over again, yet our government does nothing. On this score, the research seems to be quite valid as well as the recommendations.
The two most important policy levers for narrowing global imbalances are fiscal consolidation in deficit economies and a reduction in official financial outflows (sometimes referred to as increased exchange rate flexibility) in surplus economies. To avoid a return of large global imbalances, economies with current account deficits should cut fiscal deficits more than is currently projected and economies with current account surpluses should dramatically reduce official financial outflows and allow their currencies to appreciate as well as take steps to boost domestic demand. Of course, the timing of these actions needs to take into consideration economic conditions in each country. In countries that were hit hard by the financial crisis and in which economic recovery is proceeding slowly, fiscal consolidation should be delayed until recovery is on a firmer footing.
If this research is correct or your friendly neighborhood layman's economics blogger understood it correctly, it has significant implications on China and other EEs (emerging economies) and their relationship to the United States. In other words, we must reduce our deficit and one critical way for that is jobs, income. To get jobs, we need production, manufacturing, the production economy or the real economy and thus exports, to grow. Which means American companies using China as their backyard cheap manufacturing center instead of the United States need to return those jobs. All of that implies we need strong action again China for currency manipulation since they refuse to float the Yuan.