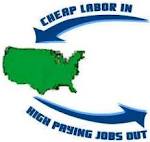 Houston, we have a problem. We need jobs. The never ending political banter on immigration is a droning inane brew of special interests. One thing always is constant. At the back of the pack is America's middle class. We even have various groups supposedly representing U.S. labor who seem to be interested in illegal immigrants instead. Even worse, we have numerous lobbyists spinning out economic fiction, trying to claim offshore outsourcing is good for America or displacing U.S. workers with foreigners is somehow good economically. Neither is true. Worker displacement is worker displacement and if anyone is alive these days, the employment statistics say it all. Indeed we saw the foreign born getting majority of the jobs from 2008-2010. We need jobs for U.S. citizens, American workers. We also need a big legal rubber stamp proclaiming U.S. workers are preferred for all jobs within our shores.
Now the Supreme court has spoken, but what did they even say? Well, frankly you need to read the opinion on the Supreme Court's website for the press will spin the court's ruling to oblivion. In a nutshell, they struck down sections of the Arizona state law which conflicted with Federal immigration law. Contained within the majority opinion are a host of quoted facts which should explain why Arizona did what they did:
The pervasiveness of federal regulation does not diminish the importance of immigration policy to the States. Arizona bears many of the consequences of unlawful immigration. Hundreds of thousands of deportable aliens are apprehended in Arizona each year. Dept. of Homeland Security, Office of Immigration Statistics, 2010 Yearbook of Immigration Statistics 93 (2011) (Table 35). Unauthorized aliens who remain in the State comprise, by one estimate, almost six percent of the population. See Passel & Cohn, Pew Hispanic Center, U. S. Unauthorized Immigration Flows Are Down Sharply Since Mid-Decade 3 (2010). And in the State's most populous county, these aliens are reported to be responsible for a disproportionate share of serious crime. See, e.g., Camarota & Vaughan, Center for Immigration Studies, Immigration and Crime: Assessing a Conflicted Situation 16 (2009) (Table 3) (estimating that unauthorized aliens comprise 8.9% of the population and are responsible for 21.8% of the felonies in Maricopa County, which includes Phoenix). Statistics alone do not capture the full extent of Arizona's concerns. Accounts in the record suggest there is an "epidemic of crime, safety risks, serious property damage, and environmental problems" associated with the influx of illegal migration across private land near the Mexican border. Brief for Petitioners 6. Phoenix is a major city of the United States, yet signs along an interstate highway 30 miles to the south warn the public to stay away. One reads, "DANGER—PUBLIC WARNING—TRAVEL NOT RECOMMENDED / Active Drug and Human Smuggling Area / Visitors May Encounter Armed Criminals and Smuggling Vehicles Traveling at High Rates of Speed." App. 170; see also Brief for Petitioners 5–6. The problems posed to the State by illegal immigration must not be underestimated.
Much more importantly, the Supreme court upheld E-verify, a program to check if a social security number being used for employment is valid and SCOTUS ruled at the end of May 2011.
Arizona's use of E-Verify does not conflict with the federal scheme. The Arizona law requires that "every employer, after hiring an employee, shall verify the employment eligibility of the employee" through E-Verify ... That requirement is entirely consistent with the federal law
What does that mean for jobs? Well, we cannot tell because the BLS and governments count foreign guest workers, illegals, undocumented in their unemployment statistics. We cannot get government employment statistics by immigration status, a much needed metric to understand what's really going on in U.S. labor markets.
We have team Obama blasting Romney for offshore outsourcing. Well, isn't immigration the dual, known as insourcing? What does it matter if a job is shipped offshore or instead, a foreign worker is shipped in? Either way yet another American has lost their job. That opportunity was denied to a U.S. Citizen, American worker. Indeed U.S. domestic diversity has taken a major hit. Blacks have literally lost lost all of their economic gains from the Great Recession, and women have lost jobs.
It's pure hypocrisy to rail on offshore outsourcing all the while enabling insourcing and even more offshore outsourcing through bad trade deals.
The rhetoric is inane and it seems the latest phrase to repeat on cable noise ad nauseum is we're a nation of immigrants. Uh, actually no, we're not. We are a nation of unemployed people.
The below video, from a reduced immigration group, amplified some facts on the occupational area most targeted for labor arbitrage by corporations. Think what you will about the group, but the video is all true.
Obama literally expanded the OPT Visa program when 53.6% of recent college graduates cannot find jobs in their fields.
A program that allows foreign students who hold or are pursuing degrees in the so-called STEM fields -- science, technology, engineering and math -- to work in the U.S. for 29 months without work visas was quietly expanded last month by President Barack Obama's administration.

The Optional Practical Training (OPT) program had allowed students to work in the U.S. without a work visa for up to 12 months until 2008, when the George W. Bush administration increased the time limit to 29 months.

The Obama administration is maintaining the 29-month OPT term limit, but it has expanded the number of eligible fields of study by about 90, bringing the total to 400.
The Washington Post dug out Romney's Bain Capital's heavy investment in companies whose main purpose was to offshore outsource American jobs.
Mitt Romney's financial company, Bain Capital, invested in a series of firms that specialized in relocating jobs done by American workers to new facilities in low-wage countries like China and India.

During the nearly 15 years that Romney was actively involved in running Bain, a private equity firm that he founded, it owned companies that were pioneers in the practice of shipping work from the United States to overseas call centers and factories making computer components.
It's also clear Romney would allow more H-1B Visas and other programs designed to flood U.S. STEM occupations with foreign workers, displacing even more Americans from jobs and even opportunities for college.
Obama just gave work permits to at least 800,000 illegals with nary a mention on the extreme unemployment rates for those under the age of 25. He authorized work permits for spouses of foreign workers. It seems everyone is getting a hand except workers who had the misfortune of being born in America.
Both parties are introducing even more immigration methods, work permits, visas to target professional jobs, which in turn will cause even more U.S. worker displacement. Corporate America is literally running negative political ads to make sure their agenda to not hire U.S. workers and instead import more foreign workers is achieved.
Offshore outsourcers love U.S. immigration and the H-1B Visa is called the offshore outsourcing Visa. Literally outsourcers bring workers to the United States on guest worker Visas, not hiring or even considering Americans.
The Indian firms recently pointed out that they employ 107,000 people in the U.S., of which 35,000 are U.S. workers. The balance of this labor force is on work visas, either H-1B or L-1.
In other words, there is no rhyme, reason or reality with our government on how immigration affects labor markets, jobs and displaces American workers. There is also pure hypocrisy in trying to divide and conquer Americans into Red and Blue. It's an illusion to have Democrats claim to be against offshore outsourcing and blast Republicans. It's just as absurd to think Republicans are tough on illegal immigration, all the while importing more foreign guest workers and enabling more offshore outsourcing.
The United States clearly has weak demand for American labor, a never ending export of jobs and an unlimited flood of foreign worker labor supply. Yet putting Americans first for jobs just isn't on the table.