The Federal Reserve is publishing a 0.1% increase from last month in in industrial production Here is a detailed report.
The main cause for the increase was a spike in utilities, caused by hotter weather. Blast those air conditioners man. The breakdown in industrial production was:
manufacturing: -0.4%
mining: +0.4%
utilities: +2.7%
Industrial production edged up 0.1 percent in June after having risen 1.3 percent in May. The rate of change for March was revised up, and the rate of change for April was revised down; these revisions resulted primarily from the incorporation of new information on the output of utilities. For the second quarter as a whole, total industrial production increased at an annual rate of 6.6 percent. Manufacturing output moved down 0.4 percent in June after three months of gains at or near 1 percent. The output of mines rose 0.4 percent. The output of utilities increased 2.7 percent, as temperatures moved further above seasonal norms. At 92.5 percent of its 2007 average, total industrial production in June was 8.2 percent above its year-earlier level. The capacity utilization rate for total industry remained unchanged in June at 74.1 percent, a rate 5.9 percentage points above the rate from a year earlier but 6.5 percentage points below its average from 1972 to 2009.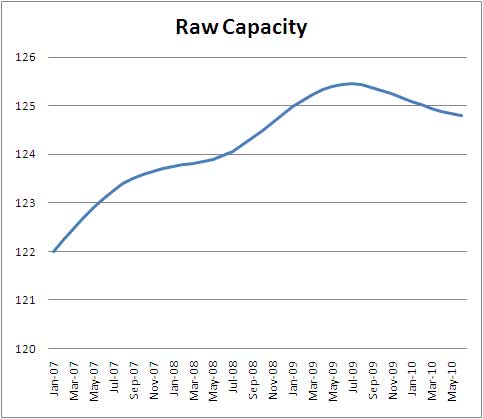 Total capacity for the month was unchanged. Manufacturing raw capacity for the month was also unchanged, but there was a sign of hope. Advanced technologies manufacturing raw capacity was up 0.9% for the month.
For industrial production the marketing group major changes are:
Final Products: -0.2%

Consumer goods: -0.6%
Business equipment: +0.9%

Nonindustrial supplies: -0.1%
Materials: +0.4%
Below is industrial production since December, 2001. As one can see we are not near pre-recession levels. In my opinion, coming out of a trough, does not a recovery make.
Capacity utilization, or of raw capacity, how much is being used, was flat, 74.1%, after May's numbers were revised down. Below are capacity utilization's yearly percent change breakdown.
manufacturing: -0.8%
mining: +0.3%
utilities: +2.3%
crude: -0.3%
primary: -0.8%
finished: 0.0%
The below graphs show the overall decline of U.S. capacity utilization. Capacity utilization is how much can we make vs. how much are we using. These graphs show the U.S. is simply not producing what it is capable of, a reflection of the output gap.
Below is the Manufacturing capacity utilization graph. Too often the focus is on the monthly percent change, so it's important to compare capacity utilization to pre-recession levels.
Here is last month's report. There were major revisions to the index. Below is from the Federal Reserve Press release on what these revisions entailed.
The Federal Reserve Board released its annual revision to the index of industrial production (IP) and the related measures of capacity and capacity utilization on June 25, 2010. In this revision, the base year for the IP index was advanced from 2002 to 2007, which lowered the level of the IP index for most periods. In addition to the new base, the revised IP indexes incorporated detailed data from the 2007 Economic Census and the 2008 Annual Survey of Manufactures, both conducted by the U.S. Census Bureau. Data from selected editions of the Census Bureau's 2008 and 2009 Current Industrial Reports have also been incorporated along with annual data from the U.S. Geological Survey regarding metallic and nonmetallic minerals (except fuels) for 2008. The revised indexes reflect updated price deflators from the Bureau of Economic Analysis. For this release, monthly indicators (either product data or input data) were revised, and the estimation methods for some series were changed. The new monthly production estimates reflect the incorporation of updated seasonal factors and monthly and quarterly source data that became available (or were revised) after the closing of the reporting window. Capacity and capacity utilization were revised to incorporate data from the Census Bureau's Quarterly Survey of Plant Capacity for the fourth quarters of 2008 and 2009, which covered manufacturing, along with new data on capacity from the U.S. Geological Survey, the Department of Energy, and other organizations.