Increasingly we are seeing major financial reporting being in the spin zone. Here is what Bloomberg headlined on the ISM non-manufacturing index June 2009 report:
U.S. ISM Service Industries Index Increased to 47

U.S. service industries from retailers to homebuilders contracted last month at the slowest pace in nine months, as measures of new orders and employment improved.
The reality is the economy contracted for the 9th straight month. Bloomberg even goes so far as to claim this is stabilization:
The Institute for Supply Management's index of non- manufacturing businesses, which make up almost 90 percent of the economy, rose to 47 -- higher than forecast -- from 44 in May, according to data from the Tempe, Arizona-based group.

Readings less than 50 signal contraction. The index's third straight monthly improvement reflects signs of stabilization in housing and consumer spending. That combined with leaner inventories means companies may start expanding output again in coming months. Still, mounting job losses and stagnant wages are likely to restrain some purchases, limiting the impact of any recovery.
Uh, inventories are basically unchanged and prices are increasing. Not every index below 50 implies contraction, the indexes and meanings are unique to each category. For example, supply deliveries lower index means faster deliveries.
The only commodity in short supply is hand sanitizer.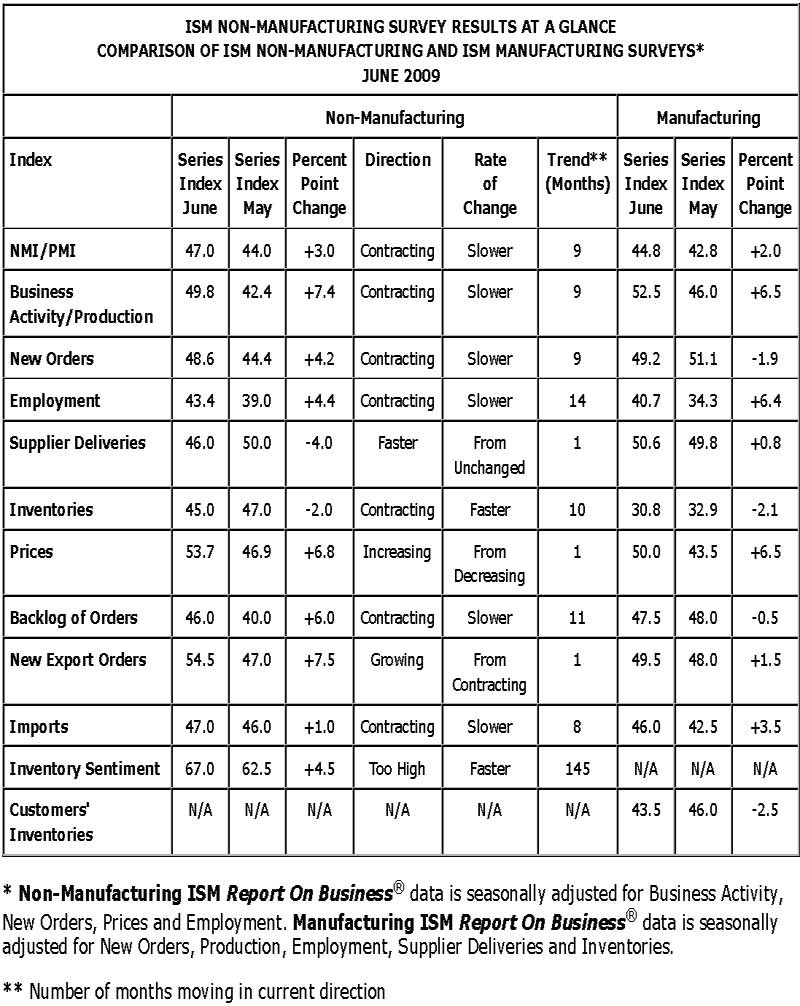 Click Table to Enlarge and Zoom