$13 million, 13 debates which said ...oops....I can't remember what was said, media black outs on some candidates, talking pundits ad nauseum and 6 months later, the Iowa caucuses are finally over. Thank God! 122,255 people decided who to pick in the Republican Iowa caucuses. That's about one hundred dollars per vote. The millions in spending bought actually a guy who had the least amount of money. Rick Santorum in essence tied with Mitt Romney, he lost by 8 votes, and the guy who has a grassroots libertarian following, Ron Paul, came in 3rd.

Estimates vary on total campaign spending The biggest TV ad spender was Rick Perry at $1.8 million. He even spent more money than the Romney super PACs, which is estimated to be $1.7 million to $2.8 million. MSNBC says the Romney's superPac spent the most:
Restore Our Future, the super PAC founded by three former Romney political aides, spent $2.8 million on ads in Iowa, nearly twice as much as the $1.5 million spent by Romney's own campaign, according to figures compiled for NBC News by Smart Media Group Delta, a media ad tracking firm.
Ron Paul also spent large, with nearly $900,000 spent on TV ads alone. Beyond being inundated with campaign ads, all of this spending didn't do much for the Iowa economy. Not that the money isn't a lot. It is just campaigns spend even more as election 2012 grinds on.
Imagine what America could do with the money spent on elections. Dylan Ratigan ran factoids in his above TV segment on how much $13 million could have bought. Below is his Iowa spending campaign tally.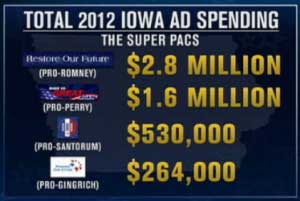 Iowa has been hit with over $16 million in advertising dollars heading into the caucuses.

As Ned described, "Iowa does offer a level playing field to candidates like Rick Santorum who didn't have name ID or much of a chance to compete with these bigger names. That's why these ads at the end, in the Des Moines market in particular, there were about $3.5 million spent just by those top candidates and top acts. We saw, as you mentioned Ron Paul and Rick Perry were the two top candidates in this market to spend about $1.5 million.
Oops, I guess it's not over. Unfortunately it's just begun. We are about to be so blasted with political ads and cable noise talking heads, well, I hope you have a DVR and Internet media streaming. Otherwise you might just take one of those bad prescription drugs also advertised 24/7 on cable to shut out the political drumming 24/7.
At least one is over!
If you're wondering how many voted for media blacked out Buddy Roemer, UPI, the only one even noting he is getting votes, reports the tally at 31.
Take note, Ron Paul wants the Austrian school of economic philosophy to banish all Keynesians to the dust heap of history. He also wants to restore the gold standard. Santorum on the other hand, talked about rebuilding U.S. manufacturing. Shame his policies will actually destroy U.S. manufacturing further, but who bothers about the details these days? More ads please!