The BLS unemployment report shows total nonfarm payroll jobs gained were 88,000 for March 2013, with 20,300 of those jobs being temporary. February was revised up by 32,000 to 268,000 jobs gained and January was also revised up by 29,000 to show payrolls gained 148,000 employees for that month. Probably the worst news of the March job figures is how the sequester layoffs have not hit yet.
The BLS employment report is actually two separate surveys and we overview the current population survey in this article.
The start of the great recession was declared by the NBER to be December 2007. The United States is now down -2.847 million jobs from December 2007, five years, three months ago. The ongoing employment crisis is past the half decade anniversary.
The below graph is a running tally of how many official jobs are permanently lost from the establishment survey since December 2007.
We broke down the CES by industry to see what kind of percentage changes we have on the share of total number of payroll jobs from 2008 until now. Below is the percentage breakdown of jobs by industry for January 2008.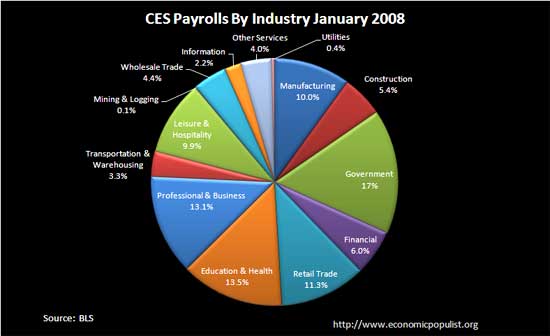 Below is the breakdown of jobs growth per industry sector for March 2013. We expected to see construction jobs shrink relative to total payrolls and it did, by 1.1 percentage points. The financial sector, only shrank 0.2 percentage points as it's share of payroll jobs, in spite of being the maelstrom behind the recession. Manufacturing, of which the auto industry is a part, has contracted 1.2 percentage point as share of total jobs. While some will blame technological advances, we suspect offshore outsourcing continues. Our manufacturing sector erodes and the only real growth field is in health care for over five years. From these two pie charts we can see the job market has changed into more crappy, low paying service jobs. Comparing the two pie charts is also a reality check. The press will tout Science & Technology jobs as well as manufacturing for growth areas. We can see professional services, of which Science and Technology is a smaller part, has grown by 0.5 percentage points over five years, yet education and health has increased by 1.8 percentage points. Manufacturing employment contracted so severely, worse than construction, that job gains from such lows haven't made that much of a dent in the great manufacturing job loss slaughter of 2009.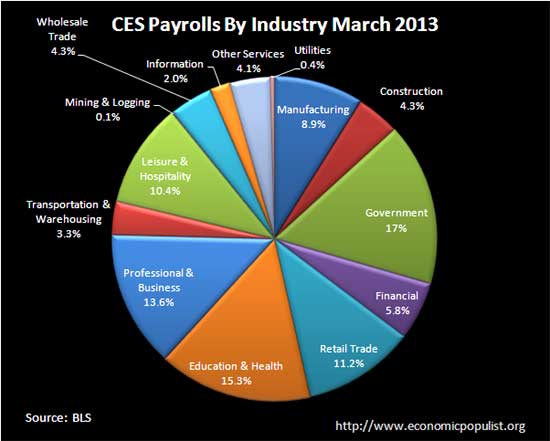 Below is a bar chart showing the payroll growth since January 2008. We see health care jobs, part of education and health sector, is the only real growth sector. .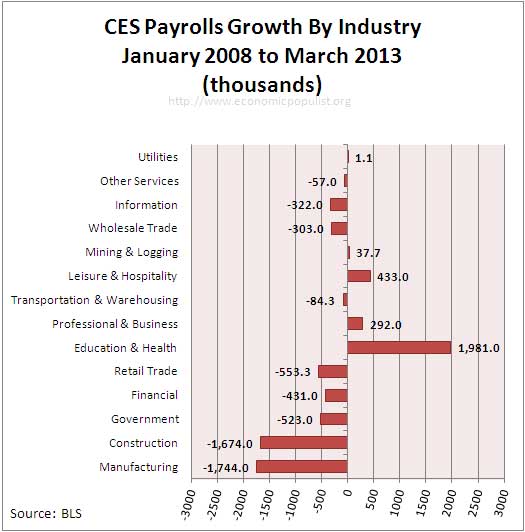 For the year, the United States has gained 1,910,000 payroll jobs. In the year previous, the U.S. had gained 2.42 million jobs. This tells us jobs have been growing at lower pace for this year so far and not fast enough to employ the 11.7 million official unemployed, never mind the estimated 19-24 million Americans who really need a good job or any job.
Just to keep up with population growth, we need at least 100,000 jobs per month or 1.2 million a year and this estimate assumes the current low labor participation rates.
Private Sector jobs, or jobs not in government gained 95 thousand in payrolls. For those claiming all job growth is in the private sector, the United States is still down 2.336 million private sector jobs from December 2007. Good producing jobs, which usually have higher paying ones, grew by only 16 thousand for March. Service producing jobs, which includes our fast food and big box mart workers, increased by 79,000. Below is a graph of just the private sector payroll losses since December 2007.
Below is a bar chart of the payroll gains by industry sector for the month of March. We can see all of retail trade, not government jobs, really took a hit.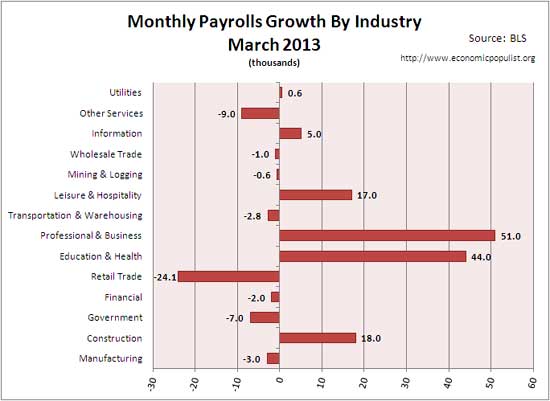 This month manufacturing shred -3,000 jobs with durable goods manufacturing adding 4,000 jobs while nondurable goods lost -7,000 employees.
This month the auto & parts manufacturing gained 800 jobs and since December 2007, the auto manufacturing industry is still down -167.200 jobs. This is an industry sector which only employs 789,800 people in the United States. Elsewhere, such as China, is another story.
Government overall lost -7,000 jobs for March with -14,000 job losses at the Federal level. The U.S. Postal service alone lost -11,700 jobs. State government, on the other hand, gained 9,000 jobs, with 8,400 of those jobs being in education. Local governments shed another -2,000 jobs.
The construction housing bubble collapse jobs slaughter is over for now it appears, although what will happen when the Fed stops quantitative easing is another story. This month construction gained 18,000 jobs. Rebuilding from Hurricane Sandy is still ongoing.
This month the financial sector lost -2,000 jobs overall with -2,900 jobs lost in commercial banking.
Retail trade, which are your retail sales outlets like big box marts, direct mailing and anything retailing merchandise, lost -24.1 thousand jobs this month. These were mainly low paying jobs. Clothing stores alone lost -15.3 thousand jobs and our building supply retail outlets shed -10,100 jobs in a month. Electronics & appliance retail stores lost -5,700 jobs for the month.
Education and health services has consistently been increasing and this month was no exception 44,000 additional jobs. Of those jobs, 27.9 thousand were in health care while 16.1 thousand were education jobs. A total of 1.413,600 jobs have been gained in health care since December 2007. Clearly health care should not be a profitable industry, or has much to do with the real economy. Making money and jobs off of sick people is no way to be an economic leader. Yet most of the job growth is in this sector.
Professional & Business services contains management, career professionals, science & technical, administrative and support and finally waste services and this month gained 51 thousand jobs. While this sounds great, 20,300 of those jobs are temporary positions. Additionally, 25.5 thousand of these jobs are in waste management and administration. The sectors which could be anything technology and management related, payrolls added 12.2 thousand jobs, but bear in mind this includes management, consultants, architects, engineers, IT. These figures include the gamut of tech, which is in every sector these days. To be clear, there is no tech worker shortage and for a reality check, accountants and bookkeepers added 10.7 thousand jobs in March.
Wholesale trade lost -1,000 from last month and information gained 5,000 jobs. Transportation and warehousing lost -2,800 jobs this month and below is the graph for this industry sector's payrolls.
Let's talk Leisure & Hospitality. This sector has the lowest paying jobs of them all. This month the sector gained 17,000 jobs with 13.000 of those jobs being in food services and drinking places. Food service can even pay below minimum wage and from December 2007 this subsector has gained 479,100 jobs. For the year, the United States has created 262,000 crappy jobs in restaurants and bars. Jobs which require one to say do you want fries with that is not the kind employment growth needed to support a family and a production economy.
Bottom line, the employment crisis casts a long shadow for America's workforce and just continues unabated. Congress is busy trying to flood the U.S. labor market with more foreign workers via comprehensive immigration reform, more bad trade treaties and draconian budget cuts which will cause more Americans to lose their jobs. For over half a decade this Congress has focused on the wrong things when America is clearly suffering from a lack of good jobs. It is positively despicable to see millions of Americans slip into poverty because they cannot get a decent job and behind March's employment statistics are real people with no job, living in quiet desperation.
Here is our overview of the unemployment statistics, which also put numbers to our terrible job crisis tale.