NAR reports pending home sales showed a 5.9% annualized monthly increase for May 2012.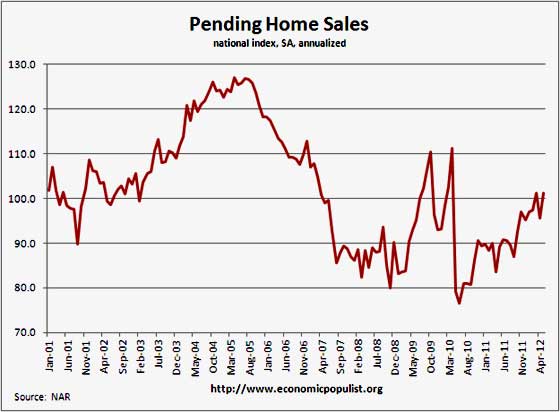 As we can see from the above graph, pending home sales are really around the 2002 levels, as are other housing statistics. The pending home sale index simply returned to it's March 2012 level, after April's large decline. Yet here is NAR's statement on May's pending home sales:
The housing market is clearly superior this year compared with the past four years. The latest increase in home contract signings marks 13 consecutive months of year-over-year gains," he said. "Actual closings for existing-home sales have been notably higher since the beginning of the year and we're on track to see a 9 to 10 percent improvement in total sales for 2012.
A 10% total sales improvement? We're sorry, but NAR is smoking crack. In this month's residential real estate statistics, no where do we see a 10% increase. Housing data is reported annualized and even when this month looks good, none of these numbers are that high. Maybe hitting a bottom on housing has happened but expecting that kind of a recovery for 2012 is a pipe dream.
The NAR Pending Home Sales Index is based on contract signings and indicates actual sales a couple of months later. Pending Home sales are not actual closings.
As we can see from the above historical graph, pending home sales have been higher, since the housing bubble burst and that artificial rise was mainly due to the first time home buyer's tax credit. Here is NAR's regional data breakdown:
The PHSI in the Northeast increased 4.8 percent to 82.9 in May and is 19.8 percent above May 2011. In the Midwest the index rose 6.3 percent to 98.9 in May and is 22.1 percent higher than a year ago. Pending home sales in the South increased 1.1 percent to an index of 106.9 in May and are 11.9 percent above May 2011. In the West the index jumped 14.5 percent in May to 108.7 and is 4.8 percent stronger than a year ago.
Contracts maybe signed but as of late, many do not make it to final sale. From the April existing home sales report, we have NAR now refusing to publish the percentage of contracts canceled, claiming often another contract is offered after a cancellation. In other words, we don't know how many of these pending sales will actually go through. In January 2012 one third of contracts were canceled.
The NAR Pending Homes Sales index is based on 20% of existing home sales and normalized to, 2001.
An index of 100 is equal to the average level of contract activity during 2001, which was the first year to be examined as well as the first of five consecutive record years for existing-home sales; it coincides with a level that is historically healthy.
NAR notes inventory may hold back sales, yet check out these absurd projections:
Low inventory results partly from underwater homeowners who are unwilling to list their homes, which would require a lengthy short sale process, or additional cash to complete the transaction. NAR estimates 85 percent of homeowners have positive equity, with 15 percent in an underwater situation.

"Low inventory can be cured by increasing new home construction," Yun said. He projects housing starts to rise by 26 percent this year and another 50 percent in 2013.
A 50% increase in housing starts for 2013 when the CBO has predicted a recession and the FOMC also projects very weak economic growth. Right o, that's simply a ridiculous claim.
Zillow reports 31.4% of those with a mortgage owe more than their homes are worth. Additionally Zillow has an interesting analysis on the relationships between housing inventory, prices and negative equity.
Our emerging hypothesis is that, instead of a long, flat bottom with price appreciation constrained by weak demand and elevated foreclosures, we might end up in an environment in which constrained supply (due to negative equity), together with robust demand from investors and first-time home buyers (not weighed down by negative equity), combine to create cycles of home value spikes followed by cooling periods. These cooling periods are created once local home values have risen enough to free some homeowners from negative equity at which point some of these resurfacing homeowners attempt to sell their homes, thus creating additional supply which tempers price appreciation.
The OCC reported delinquent mortgages are at their lows. The Comptroller of the Currency started tracking delinquent mortgages in 2008.
Percentages of mortgages that were 30 to 59 and 60 to 89 days delinquent also decreased to their lowest levels since the OCC began publishing its report on mortgage performance in first quarter of 2008. The improvement in mortgage performance can be attributed to several factors, including strengthening economic conditions during the quarter, seasonal effects, servicing transfers, and the ongoing effects of home retention programs as well as home forfeiture actions.

The large number of delinquent loans continues to work through the loss mitigation process. Servicers initiated 352,989 new home retention actions—modifications, trial-period plans, and payment plans. During the past five quarters, servicers initiated more than 2.2 million home retention actions. Completed foreclosures increased to 122,979—up 5.9 percent from the previous quarter and 2.7 percent from the first quarter of 2011. However, the number of new foreclosures initiated during the quarter decreased to 286,951—down 1.8 percent from the previous quarter. The inventory of foreclosures in process increased from the previous quarter to 1,269,921, but is down from 1,308,757 a year ago.
While people maybe keeping their homes off the market due to negative equity and declining home prices, it's also clear we have bank owned properties still coming down the housing inventory pike.
The PHSI are contracts which have not yet closed and why pending home sales are considered a future housing indicator. From the NAR:
NAR's Pending Home Sales Index (PHSI) is released during the first week of each month. It is designed to be a leading indicator of housing activity.

The index measures housing contract activity. It is based on signed real estate contracts for existing single-family homes, condos and co-ops. A signed contract is not counted as a sale until the transaction closes. Modeling for the PHSI looks at the monthly relationship between existing-home sale contracts and transaction closings over the last four years.
While NAR seems to think magically the construction of new homes is going to pop up, mortgage applications dropped 7.1%.
The number of total mortgage applications filed in the U.S. last week fell 7.1%, the Mortgage Bankers Association said Wednesday.

The refinance index decreased 8% from the previous week, according to the MBA's weekly survey, which covers more than three-quarters of all U.S. retail residential mortgage applications.
NAR continues this silly dance to forever claim a housing recovery is around the corner and it's plain ridiculous at this point. Frankly, we hope their statistics at least are still accurate, for the projections we see month after month coming from this organization are just in fantasy land.
Economic statistics are not if we dream it, they will come.