The unemployment rate was released today and it's bad news. The number of jobs lost was 263,000 and the official unemployment rate is now at 9.8%.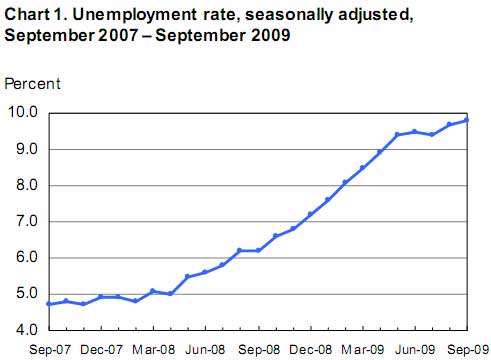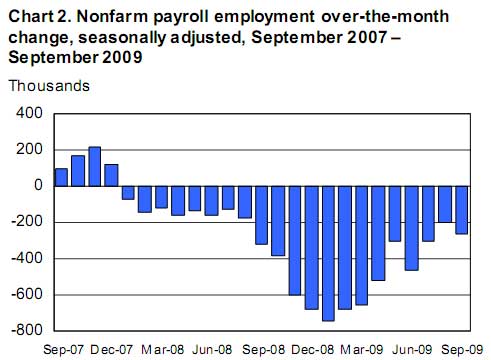 We're all disposable workers now.
Among the unemployed, the number of job losers and persons who completed temporary jobs rose by 603,000 to 10.4 million in September.
Gets worse. People out of work for over 27 weeks, is now at 10.4 million and is also now 35.6% of the official unemployed tally.
Think the news gets any better? Ha ha. The labor participation rate, or those who are in the workforce, looking, dropped too. Remember population is increasing, so these people are just dropping out of the count entirely. No they did not move to their Swiss villa, they are no longer being counted.
The civilian labor force participation rate declined by 0.3 percentage point in September to 65.2 percent. The employment-population ratio, at 58.8 percent, also declined over the month and has decreased by 3.9 percentage points since the recession began in December 2007.
2.2 million people are in the marginally attached category, which means they are wanting a job but haven't looked in the last month. Then we have 706,000 discouraged workers who have given up but want a job.
September occupational job losses:
Construction - 64,000
Manufacturing - 51,000
Retail - 39,000
Government - 53,000
The average hours also dropped to 33. So you have a job, but hey, you can't get 40 hours of wages in.
U6, the broader unemployment rate measure is 17%.
U6 is defined as total unemployed, plus all marginally attached
workers, plus total employed part time for economic reasons, as a percent of the civilian labor force plus all marginally attached workers.