It's only been since Sunday when Europe did a shock and awe dumping of almost a $1 trillion dollars to bail out their impending sovereign debt crisis.
Here is the Euro to the Dollar. The EURO is imploding: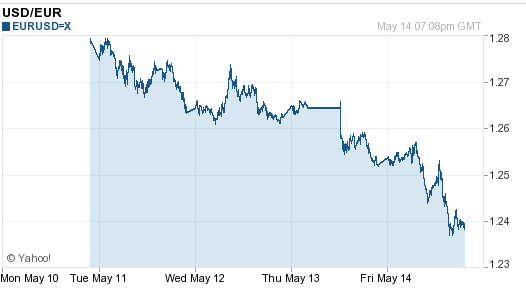 Here is the Dow Jones:
France Threatened to Leave the Euro (via midtowng)
Share prices have dropped across Europe and the euro has slid to an 18-month low against the dollar on fears that the eurozone bailout of Greece will fail and reports that French president Nicolas Sarkozy threatened to pull his country out of the single currency altogether to force Germany to agree to the rescue plan...
Sarkozy demanded "a compromise from everyone to support Greece ... or France would reconsider its position in the euro," according to one source cited by El País.
"Sarkozy went as far as banging his fist on the table and threatening to leave the euro," said one unnamed Socialist leader who was at the meeting with Zapatero. "That obliged Angela Merkel to bend and reach an agreement."
A different source who was at the meeting with Zapatero told El País that "France, Italy and Spain formed a common front against Germany, and Sarkozy threatened Merkel with a break in the traditional Franco-German axis."
El País also quotes Sarkozy as having said, according to another of those who met Zapatero, that "if at time like this, with all that is happening, Europe is not capable of a united response, then the euro makes no sense".