The Manufacturers' Shipments, Inventories, and Orders report was released today. This report is called Factory Orders by the press and covers both durable and non-durable manufacturing orders, shipments and inventories. While new orders increased 1.3% from January, the first thing to notice is new orders have recovered to pre-recession levels.
Core capital goods new orders increased 1.7% for the month and has recovered to levels before the recession start. Core capital goods are capital or business investment goods and also excludes defense and aircraft.
Durable goods news orders was revised, from the reported 2.2% to a 2.4% monthly increase. Notice that Durable goods new orders have still not recovered to pre-recession levels.
Shipments increased 0.1% with core capital goods shipments increasing 1.4% after decreasing -2.8% in January. Below is a graph of core capital goods shipments.
Inventories increased 0.4% with machinery, part of core capital goods, inventories increasing 1.0%. Core capital goods inventories as a whole increased 0.4%. There still is not an inventory build up as the inventory to shipments ratio remained the same, 1.33.
Considering our sky high gas prices this is worth noting. Petroleum and Coal are part of non-durable goods, whose inventories increased 0.3% on a monthly basis.
Petroleum and coal products, up six consecutive months, drove the increase, up $1.0 billion or 1.8 percent to $58.4 billion.
Below is the graph of inventories to shipments ratios for Petroleum and coal, but for February. The height of the oil bubble was Summer 2008.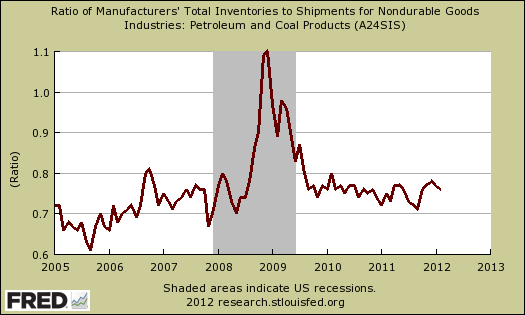 Below are February Petroleum refineries inventories.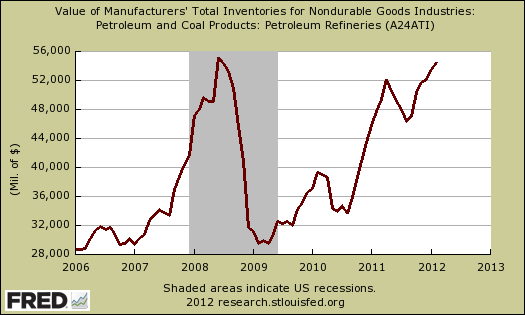 While this report is for February some interesting news on oil inventories for April has come out. First is a report on tankers lowering their rates by 58% due to a glut:
The fastest expansion in oil cargoes since 2004 is exceeding demand and filling up storage tanks from Egypt to Japan, creating a glut that threatens to reverse the biggest gain in shipping rates in five years.

Tankers will be carrying 488.8 million barrels by April 14, 3.9 percent more than the week earlier, estimates Oil Movements, which has tracked cargoes for 25 years. Rates for very large crude carriers, each holding 2 million barrels, will drop 58 percent to average $19,750 a day, the median of six analyst forecasts compiled by Bloomberg shows.
Additionally the DOE and API are reporting an increase in crude oil inventories:
U.S. crude inventories rose more than analysts expected last week, according to data released Wednesday by the U.S. Department of Energy.

Crude oil stockpiles rose 7.1 million barrels to 353.4 million barrels, compared with an average survey estimate calling for a build of 2.2 million barrels. The American Petroleum Institute, an industry group, reported a 3.6- million-barrel build in its weekly report released late Tuesday.
Factory orders is one of two manufacturing reports released monthly by the Census. The other report focuses on manufactured durable goods and is released earlier in the month.
Part of this report goes into GDP. The BEA takes this report, called M3, and uses the shipments values to calculate investment in private equipment, investment in software. Manufacturing inventories also goes into the changes in private inventories GDP calculation. At the bottom of this post is a little more information to estimate part of the GDP investment component.
The St. Louis Federal Reserve FRED graphing system has added individual NAICS data series from this report. If you're looking for a graph of some particular NAICS category, such as light trucks, autos & parts, or machinery, it might be found on FRED.