Eventually the unsustainable will end. It's an immutable law of both physics and economics. For the American dollar, it appears that this day of reckoning is approaching quickly.

Merrill Lynch has warned that the United States could face a foreign "financing crisis" within months as the full consequences of the Fannie Mae and Freddie Mac mortgage debacle spread through the world.

The country depends on Asian, Russian and Middle Eastern investors to fund much of its $700bn (£350bn) current account deficit, leaving it far more vulnerable to a collapse of confidence than Japan in the early 1990s after the Nikkei bubble burst. Britain and other Anglo-Saxon deficit states could face a similar retreat by foreign investors.
America has a savings rate of zero and must borrow about $2 Billion a day, 365 days a year, to maintain its standard of living.
America has been living far beyond its means for most of the Bush Administration, so why start worrying now?
I went to the Treasury Direct web site and did some quick math.
From January 2007 to July 14, 2007 the national debt increased by $197,542,190,350
From January 2008 to July 14, 2008, the national debt has increased by $303,565,163,100
If you were a lender, and your primary borrower who was already living beyond his/her means suddenly had to increase borrowing by more than 50%, would you be concerned?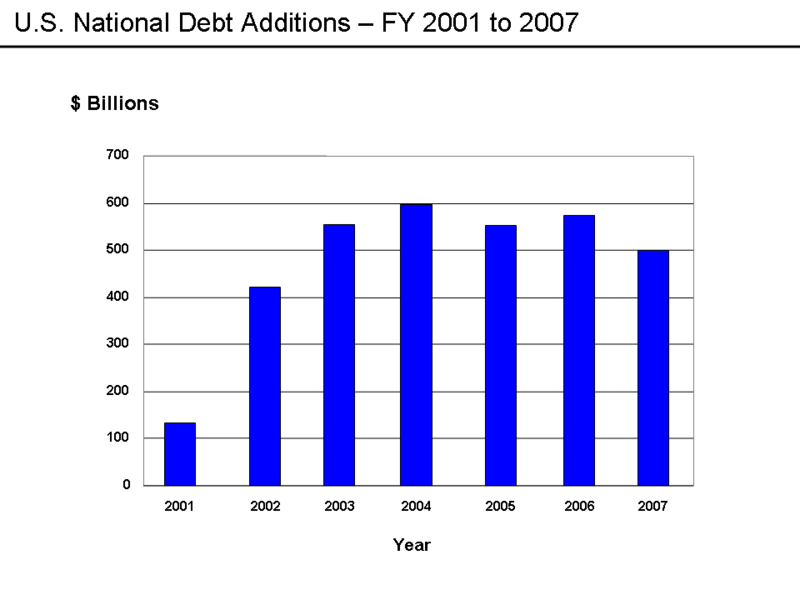 Roughly $1.5 trillion of Fannie and Freddie AAA-rated debt - as well as other US "government-sponsored enterprises" - is now in foreign hands. The great unknown is whether foreign patience will snap as losses mount and the dollar slides.

Hiroshi Watanabe, Japan's chief regulator, rattled the markets yesterday when he urged Japanese banks and life insurance companies to treat US agency debt with caution.
In a sign that our foreign creditors are taking this seriously, sovereign wealth funds are cutting back on their exposure to dollar assets.

Behind the scenes, fund officials are questioning the credibility of the Federal Reserve and US Treasury in defending the dollar and maintaining financial stability. Reacting to last year's collapse of structured investment vehicles, the head of one Middle East fund said: "I thought the problem of off-balance sheet had gone away with Enron."
Probably the most disturbing thing that our foreign creditors must be worried about is that Washington has completely abandoned all pretense of fiscal sanity. For instance, the Democrats are planning yet another tax rebate. Meanwhile, in another display of cluelessness, Bush said that the Fannie Mae/Freddie Mac bailout wasn't a bailout.
CNN called it the trillion-dollar mortgage time bomb.
In fact, a bailout of Fannie and Freddie will be so large that it will cost America its AAA debt rating. Losing the AAA rating would mean foreigners would fly from our Treasuries, thus bringing to an end the dollar's status as world's reserve currency.
The important point to note here is that the GSE's didn't get themselves in trouble all by themselves. They didn't become the dominant force in the housing market, even while the market implodes, all by themselves.
They were instructed to bail out the housing market by the Bush Administration.

By reducing the extra cushion of capital the two companies have been required to hold since 2004, the regulator, the Office of Federal Housing Enterprise Oversight, is enabling the companies to invest $200 billion more in home loans. In essence, the companies are being allowed to take billions of dollars that had been used as a reserve against possible further losses and invest that money now in the housing market.
This bailout that isn't a bailout, when you look beyond the simplistic rhetoric, has almost unimaginably negative implications for the dollar and the American economy in general. To give you an idea of the size and magnitude we are talking about, let me list a few facts for you:
1) As part of the bailout, the Bush Administration has "called on Congress to raise the national debt limit."
2) The markets detected an increased risk of the Treasury Department going bankrupt and defaulting on the national debt.
3) Treasury Secretary Henry Paulson has asked Congress for "authority to buy unlimited stakes in the companies and lend to them".

I don't know about you, but when the government starts using the term "unlimited" I get nervous. But the real kicker here is - who is going to be bailed out? Would it surprise you to know that, in true third-world government fashion, it will largely be rich foreigners?

As politicians call for taxpayer bailouts and a government takeover of troubled mortgage lenders Freddie Mac and Fannie Mae, FreedomWorks would like to point out that a bailout is a transfer of possibly hundreds of billions of U.S. tax dollars to sophisticated investors and governments overseas.
The top five foreign holders of Freddie and Fannie long-term debt are China, Japan, the Cayman Islands, Luxembourg, and Belgium. In total foreign investors hold over $1.3 trillion in these agency bonds, according to the U.S. Treasury's most recent "Report on Foreign Portfolio Holdings of U.S. Securities."
FreedomWorks President Matt Kibbe commented, "The prospectus for every GSE bond clearly states that it is not backed by the United States government. That's why investors holding agency bonds already receive a significant risk premium over Treasuries."
"A bailout at this stage would be the worst possible outcome for American taxpayers and mortgage holders, who have been paying a risk premium to these foreign investors. It would change the rules of the game retroactively and would directly subsidize the risks taken by sophisticated foreign investors."
"A bailout of GSE bondholders would be perhaps the greatest taxpayer rip-off in American history. It is bad economics and you can be sure it is terrible politics."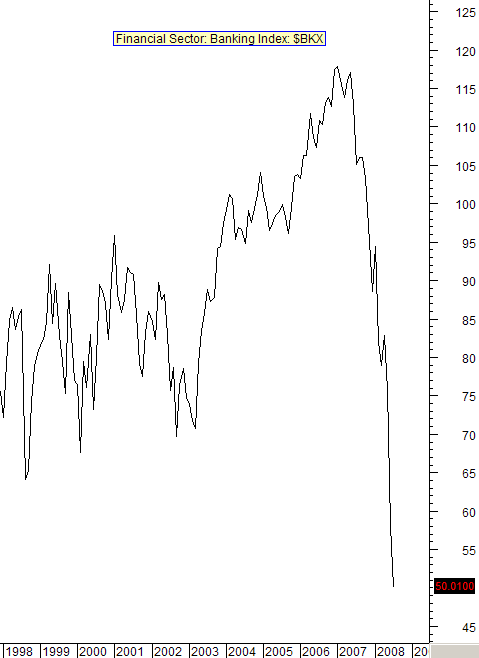 The bailouts are not over. The markets have judged the risk of more and larger bank failures is rising. Plus, there is the ever present danger of the bond insurers, such as MBIA and Ambac, imploding and forcing a revaluation of hundreds of billions of dollars in bonds. The havoc being caused on the financial markets is hard to imagine.

Bridgewater Associates has issued an apocalyptic warning to clients that bank losses from the worldwide credit crisis may reach $1,600bn (£800bn), four times official estimates and enough to pose a grave risk to the financial system.
...
If Bridgewater is anywhere near correct, governments alone have the wherewithal to rescue the system. This would mean the de facto nationalization of the banking systems in the US, Britain and Europe.
I don't know how else to say this: there is no easy solution that will enable us to avoid pain. Anyone who tells you that all we need is another bailout or a little more regulation and everything will be fine is a liar.
This country has been run by people telling you that you can have your cake and eat it to and debt doesn't matter for so long that we've run out of painless solutions. We've pushed the cost and pain into the future for so long that any amount of sacrifice has become an unacceptable scenario. Yet pain, in the form of widespread bankruptcies, is exactly what this country needs now. We need it because this country is drowning in debt, and bankruptcy is the only way we can get out from under the debt and get the country moving again.
The only other option is increasingly larger bailouts which will take their toll on the dollar until it becomes a worthless scrap of paper.