While initial weekly unemployment claims is a volatile number, subject to revisions, today's report is not good news. Initial weekly unemployment claims hit the magic number, 500,000. From the jobless claims report:
In the week ending Aug. 14, the advance figure for seasonally adjusted initial claims was 500,000, an increase of 12,000 from the previous week's revised figure of 488,000. The 4-week moving average was 482,500, an increase of 8,000 from the previous week's revised average of 474,500.
Below is the log of initial weekly unemployment claims, so one can get a better sense of the rise and fall of the numbers. A log helps remove some statistical noise. As we can see we have a step rise during the height of the recession, but then a leveling, not a similar decline and now this increase. This does not bode well for any sort of real recovery, which must include jobs.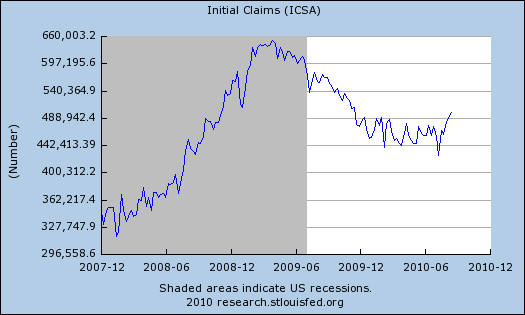 Below is a graph of initial weekly unemployment claims since November 2009. As you can see, we're literally back to 10 months ago.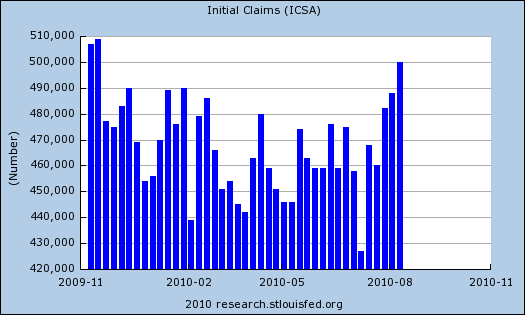 Below is the 4 week moving average. Here too one can see a dramatic increase in initial unemployment claims, then a less dramatic decrease, then a bottoming, simply staying too high and lately an uptick.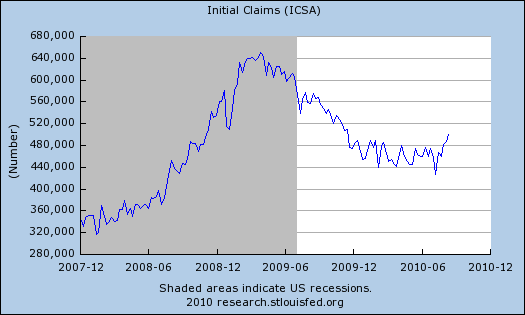 It's too early to say how fast this trend line rises, but one thing is certain, job losses are still occurring at deep recession levels.
People are past the breaking point and as it has been this entire recession, we have a jobs crisis of epic proportions.