The NAR reported existing home sales declined -1.2% from last month and May figures were revised down by 40,000 annualized units. The revision gives a 3.4% monthly May gain instead of the 4.2% originally reported. Inventories are still a very tight 5.2 months of supply, a 4.0% increase from last month's five month supply and a -18.8% annual drop in supply for existing sales demand. Inventories increased 1.9% from last month but are down -7.6% from a year ago. Existing homes sales nationwide have increased 15.2% from a year ago. Volume was 5.08 million against May's 5.14 million annualized existing home sales.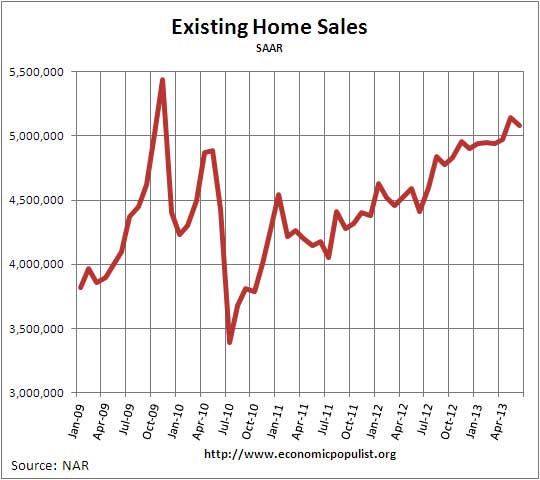 The national median existing home sales price, all types, is $214,200, a 13.5% increase from a year ago. Median price has been above $200,000 for two months now. Even more eerie, the last time there were 16 consecutive months of median existing home price increases was also the height of the housing bubble, March 2005 through May 2006.
The average home price for May was $261,100, a 9.6% annual increase. The bubble like price increases that may very well have much to do with the Federal Reserve mortgage backed securities purchases, known as quantitative easing. The Fed's move is keeping mortgage interest rates at record lows, in spite of the recent rise.
Distressed home sales are basically over with foreclosures and short sales being 15% for June and hitting the lowest percentage since October 2008. This is when NAR started tracking foreclosures and short sales as a percentage of existing home sales. Distressed sales were 18% in May and 26% in June 2012. NAR claims the decline in distressed home sales accounts for part of the soaring prices since foreclosures and short sales prices are significantly lower. From NAR:
Eight percent of June sales were foreclosures, and 7 percent were short sales. Foreclosures sold for an average discount of 16 percent below market value in June, while short sales were discounted 13 percent.
Yet all cash buyers are still high with 31% of sales being all cash. In May all cash sales were 33%. NAR reports individual investors are clearly still around, purchasing 17% of the sales in June. Investor buys were 19% of all existing home sales in June 2012.
First time home buyers are still getting squeezed out from buying a home due to credit according to NAR. Notice NAR never mentions declining wages and how the majority of America earns so little, they simply cannot afford to make rent, much less buy a house.
First-time buyers accounted for 29 percent of purchases in June, compared with 28 percent in May and 32 percent in June 2012. "First-time buyers should be closer to 40 percent of the market, but they're held back by the frictions of tight credit and very limited inventory in the lower price ranges in most of the U.S.," Yun said.
Home mortgage interest rates have also increased and this might account for the tampering off of sales. From the report:
According to Freddie Mac, the national average commitment rate for a 30-year, conventional, fixed-rate mortgage rose to 4.07 percent in June from 3.54 percent in May, and is the highest since October 2011 when it was also 4.07 percent; the rate was 3.68 percent in June 2012.
The report gives some insight on people sitting on their homes with underwater mortgages. As prices increase, they are re-entering the market and 16% of existing home sales were by previously underwater home owners.
Of those previously underwater owners, 53 percent were planning to buy another home and 22 percent intend to rent, but 25 percent weren't sure what they'd do. In addition, 47 percent of Realtors® report they have potential sellers who are waiting for additional price appreciation before they sell.
The median time for a home to be on the market was 37 days. Those are bubble year time lines to sell a house. In June 2012 the median time an existing home was for sale was 70 days.
According to RealtyTrac, foreclosures are down to December 2006 levels and decreased 14% in June.
A total of 801,359 U.S. properties with foreclosure filings — default notices, scheduled auctions and bank repossessions — in the first half of 2013, a 19 percent decrease from the previous six months and down 23 percent from the first half of 2012. The report also shows that 0.61 percent of all U.S. housing units (one in 164) had at least one foreclosure filing in the first six months of the year..
Below is NAR's breakdown by type of existing home sales.
Single-family home sales slipped 1.1 percent to a seasonally adjusted annual rate of 4.50 million in June from 4.55 million in May, but are 14.5 percent above the 3.93 million-unit pace in June 2012. The median existing single-family home price was $214,700 in June, which is 13.2 percent above a year ago.

Existing condominium and co-op sales fell 1.7 percent to an annualized rate of 580,000 units in June from 590,000 in May, but are 20.8 percent higher than the 480,000-unit level a year ago. The median existing condo price was $210,200 in June, up 15.4 percent from June 2012.

Regionally, existing-home sales in the Northeast declined 1.6 percent to an annual rate of 630,000 in June but are 16.7 percent above June 2012. The median price in the Northeast was $270,400, which is 6.8 percent above a year ago.

Existing-home sales in the Midwest were unchanged in June at a pace of 1.21 million, and are 17.5 percent higher than a year ago. The median price in the Midwest was $170,100, up 8.9 percent from June 2012.

In the South, existing-home sales slipped 1.5 percent to an annual level of 2.03 million in June but are 16.0 percent above June 2012. The median price in the South was $186,300, which is 13.7 percent above a year ago.

Existing-home sales in the West declined 1.6 percent to a pace of 1.21 million in June but are 11.0 percent above a year ago. With ongoing supply constraints, the median price in the West was $282,000, a jump of 19.9 percent from June 2012.
Here is our overviews of existing home sales not revised. NAR does not mention their revisions in their press releases.